The Human Resource (HR) sector is undergoing a comprehensive change, according to Universalhunt.com, who recently conducted a global study of HR landscape in over 40 countries.
Universalhunt.com had surveyed over 2000 HR professionals from companies ranging from small and medium-sized enterprises to blue-chip companies gathering key information on recruitment, strategic, and key priorities. Harshit Bhavsar, Managing Director at Universalhunt.com, said: "There are obvious signs that Human Resources is becoming the forefront of the business growth and transformation. Earlier it was used to regard as mainly an administrative function, but now Human Resources is becoming an imperative partner, followed more closely with the business and focused on recruiting, expanding, and managing the right talent on which companies' success depends on."
Below are the key findings based on the global survey:
– More than half (51%) of HR professionals to expand their workforce over the next 12 months.
– Nearly 60% of senior HR professionals directly report to the C-Suite level management such as CFO, CEO, Managing Director, etc.
– Ireland and United Nations of Kingdom (UK) are leading the global demand for talent.
– HR professionals report the top three business priorities are training and development (35%), talent management (34%), and talent acquisition (34%).
More than half of the companies in the survey anticipate to increasing their  workforce within the next 12 months, which implies recruitment is likely to be a pressing HR concern when the global economy picks up again, especially in the technology sector. The report also brings a few insights on specific regions such as HR professionals in Europe foresee almost 45% increase in staffing levels over the next 12 months, HR professionals in the South America expect to increase their workforce by 15% over the next 12 months, whereas, the Middle East expects more than 75% increase for the same.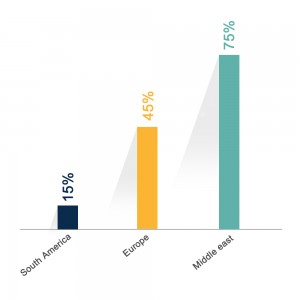 However, in contradiction to the predicted change in total workforce size, a few companies (30%) do not foresee any changes HR staffing levels within the next 12 months. The answers of HR professionals globally flag a growing HR function, which is following more closely with the industry and becoming a vital partner in attracting, developing, hiring, and retaining the best talent, as companies place an increased value on their employees.