Reach across the globe to recruit the best candidates of all

Post Jobs
Advertise your jobs for free with 1 easy step and receive candidate applications.

Get Applications
Get application alert by email. Browse and search applicant by jobs, dates and keywords.

Engage
View resume and contact details. Schedule interviews, send messages and manage status.

Hire
Hire the best suitable candidates from the most relevant job applications.
4 Reasons to Post your Jobs on Universalhunt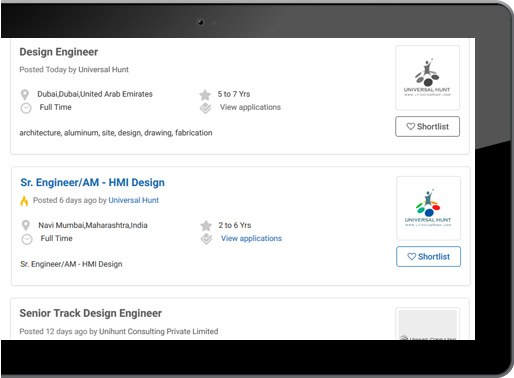 Better Visibility
Publishing jobs on Universal Hunt is faster and easier. We display your jobs in such a way that candidates would love to visit and apply.
Hire the Right Employee
Universal hunt only accepts the verified and relevant applications with attached resume. Candidates' detailed information in their profile helps the recruiters to understand their skills and expertise clearly, thus simplifying the hiring process.
Power of Social Media
A strong social media recruitment system helps to source and communicate with the right candidates effectively.Share your jobs on Facebook, LinkedIn and Twitter for maximum visibility. Get traffic analysis of the applications you are receiving from different social websites.
Analytics and Reporting
A realtime dashboard will help you to get an access of all information at one By looking at the dashboard and reports we can identify how we are performing, define metrics and set goals so that we can meet and exceed performance expectations and identify issues proactively, eventually refining the hiring.